Mata Vaishno Devi
The temple of Vaishnodevi is attributed to Maa Vaishno or Maa Durga. The holy cave shrine of Vaishno Devi is said to have been built by the five pandavas. The shrine of Mata Vaishno Devi is one of the most visited pilgrim sites in India. This is also the only temple to be open all round the clock twenty-four hours, seven days and twelve months.
Mata Vaishno temple is located in a cave, amidst the folds of the trikuta bhagwati hill at a height of 5,300ft, in the state of Jammu and Kashmir. For yatra to the holy shrine of Vaishno Devi one has to reach base town of Katra. It is around 50 kms from Jammu. Pilgrims have to cover 13 kms more either by helicopter or by foot to reach Bhawan.
The three Pindis at the Bhawan
Within the temple is the deity with three pindies or heads or images of three deities namely the mahakali, mahalakshmi and mahasaraswati. Where mahakali blesses her devotees by giving them strength to fight against evil forces and forces of darkness. Mahalakshmi assures her devotees with wealth, prosperity and well being and thus making their life more comfortable and happy. Mahasaraswati blesses her devotees with pure thoughts and a high intellect so that they can understand between good and bad. Maa Vaishno Devi is a combination of these three attributes in a single Shakti.
Better time to visit Maa Vaishno shrine.
The track to reach Mata Vaishno Devi's darbar is open throughout the year. All the year you can expect heavy rush of devotees thronging at Katra as this is the basic camp for reaching Vaishno Devi temple.
The summer months of May, June and July, festival period of spring and autumn Navratras and new year vacations have extreme rush. So if you need to have comfortable journey it is best to visit Vaishno Devi in the season of splendid waterfalls and lush green flora that is in July, August and second part of February. Also in winter seasons you can have good and mystic darshan as the original cave is open during winters only but yes for that you must have capacity to tolerate cold.
Plan to visit Jammu and then to shrine.
For darshan of Maa Durga one has to reach Katra, a small town situated around 50 kms from Jammu. Katra is the base camp for the yatra. Katra is well connected to Jammu and Jammu in turn is connected to the rest of the country by train, railways and road.
By airways
Jammu is well connected to rest of the country by air. Both Indian airlines and jet airways operate daily flights to Jammu. From New Delhi airport it takes 80 minutes to reach Jammu. Find more information on this in New Delhi Jammu travel and Mumbai Jammu travel section
By railways
Jammu is well connected with all major destinations in India by railways direct trains to Jammu are available from Mumbai, Delhi and Calcutta. A list of trains, their schedules and booking could be seen in Delhi Jammu travel section.
By roadways
Katra is well connected with Delhi, Chandigarh, Jalandhar, Ludhiana, Amritsar and Srinagar by road. Also yatris can take tourist permit vehicles for local transportation. Find bus schedules and fare in New Delhi Katra Travel Section
Pilgrims to Vaishno Devi using airways or railways have to break their journey at Jammu and from there they have to take up taxis or other mode of transportation to reach the base camp in Katra.
Yatra to Bhawan or holy cave of Vaishno Devi.
It is ideal to choose a hotel and take rest in Katra for those who prefer to trek for Mata darshan to holy cave of Vaishno Devi. Finding hotel in Katra is not a hard if it is not peak season.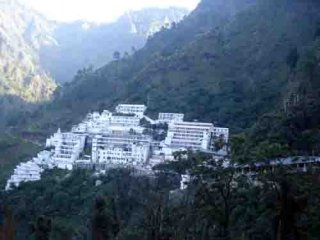 You need to get a yatri ticket first to start the climbing and it is necessary as it is needed to show up at various places and checkpoints. It is also advised to get tickets online. At peak seasons there are long queues. And if you are coming by airways then you may get priority pass as well. Yatra ticket is important as it includes one lakh rupees insurance cover in case of majors and twenty five thousand in case of minors injuries due to calamities. Also it helps at times to control rush.
Now after you take ticket yatra starts from Banganga, a place where Mata quenched her thirst. From here fore pilgrims have to cover a terrain of 13 kms to reach darbar. Banganga is merely a kilometer from Katra and yatris can have local transport to reach ban ganga. The entire route from Banganga is quiet wide and tiled. But yes one problem is that of horses and horse shit. But the route is clean and is properly lit. Special care is taken in route by Maa Vaishno Devi Shrine Board in entire route for the facilities of yatris. The whole route is cleaned from time to time throughout the day. Shelter cum beds, cafeterias is set up on all the way to Bhawan. Pure vegetarian food is available at reasonable rates in different outlets. Drinking water and public utilities are there at many places en route to Bhawan.
After trekking 6 km from Banganga you reach ardkuwari. It is a holy cave where Mata meditated for nine months. There you can take rest and can have different beverages and meals of your choice. After that you would reach sanjichhat where you can have rest and also accommodation is also available in sanjichat. Mata Bhawan is just 3.5 kms from sanjichhat.
Darshan
For darshan, yatris buys prasad and other offerings at the entrance. Here also they are issued a token number on showing the yatra ticket. The group number and the time for yatri's turn is given on the ticket. After that many other facilities are available to yatris like cloakrooms, lockers for keeping their essentials or belongings, change rooms and food outlets. It is customary to bathe and change clothes before joining the queue for darshan. Proceed for darshan only when group number is announced and avoid crowding at gate number one. It is important to abide rules.
Special guidelines for yatris
It will be good for those who plan to trek to make a booking of room at Bhawan through online from SMVDSB  websites as they provide semi VIP darshan ticket when a room is booked online. For that one can visit their official website www.maavaisnodevi.org. Booking rooms online through the website has advantage of getting priority in darshan. For checking your booking you can log on at devotee zone. It will show all the transactions which are successful.
Book yatra ticket online
Charges for online yatra ticket is rupees 50 per person. Offline yatra ticket is also available at yatra registration counter near bus stand Katra and saraswati dham Jammu. It is free of cost. Prasad worth RS 35 is included in rupees fifty if you purchase the yatra ticket online. Contact at Banganga yatra check post on your arrival. Prasad is available at souvenir shop near yatra check post Katra.
Helicopter services
If you are using helipad then one side semi VIP darshan is allowed and journey becomes very easy. But for using helipad book tickets in advance. Fights timings start from 8:30 am to 5pm and it operates from Katra to sanjichhat. It takes 8 minutes to reach sanjichhat and one flight has capacity of 5 or 6 persons. The price of the ticket is Rs 1250 per person either side
New route through Himkoti 0.5 Kms before Ardh Kuwari
Take a route via Himkoti instead of going through ardkuwari as the former is short, very beautiful, less steep and best part of it is that there are no horses and horse shit. Yatra to Bhawan is beautiful during day than night if weather is fine. It is advisable to take a mix of stairs and spiral routes while climbing and coming down to avoid extreme leg pain.
Mobile services
Only airtel, aircel, bsnl and reliance network facilities are there. Vodafone, Tata indicom, idea are not working in Vaishno Devi.
Information and inquiry counters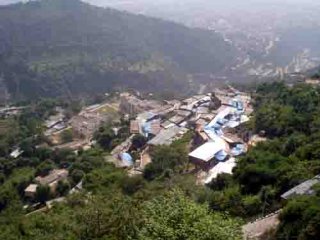 24 hour information cum enquiry counters are present for the assistance and help of yatris. These booths or counters are connected through wireless network. They work for announcement for those who get separated or lost from their families or groups and to give important messages to yatris. These counters are located at Katra, adkuwari, himkoti, sangichhat and Bhawan.
Shrine board of Maa Vaishno Devi has made arrangements for convenience of yatris through blanket stores, toilet blocks, bhojanalayas and catering units.
Refreshments
Refreshments are available along the yatra at refreshment units or view points. All items offered at these units termed as viewpoints are on no profit basis thus ensuring proper quality and value for money paid by yatris. Everything including meals, breads, milk for infants, cassettes etc are available at these view points. Besides edible items, raincoats, umbrellas, first aid, complaint and suggestion boxes with information brochures are also available at these view points.
Medical facilities
Yatris having cardiac, asthmatic and orthopedic problems are strongly advised against using stairs. Emergency needs can be taken care of by basic medical facilities at Banganga, adkuwari, sanjichhat and Bhawan. A 24 hour dispensary is also available at Bhawan.
Travel light
Yatris are advised to travel light. Don't carry food items and other unnecessary baggage with them. In particular video cameras, mobile phones and other electronic equipment are not allowed on the track for security reasons.
There are at least two clock rooms which are functional round the clock. Yatris have to deposit their belongings, belts, combs, pens and all other items as they are not allowed inside the holy cave.
Offering and Prasad
The traditional offerings to Mata which are permitted inside the holy cave include chunri, sari, chola, silver or gold ornaments, flowers etc.
In general Maa Vaishno Devi is offered a bhaint or Prasad of fullian, makhana, ahunni, mouli, coconut, pooja samagri including itra, bangles and sindoor. No sweets, food stuffs are allowed inside the holy cave, coconuts are not allowed inside the cave and they are to be broken anywhere near the cave. All the offerings in cash are required to be deposited in the donation boxes kept at various paces. No donations in cash or kind are allowed to be handed over to any temple priest. Donate in cash or in kind and obtain proper receipt for the same as all the donation to Shri Mata Vaishno Devi shrine board enjoy tax benefit under various sections of income tax act.
Gold and silver coins
Yatris can buy a water bottle from the bhaint or Prasad shop after darshan as it has holy water of maa durga cave. Also shrine board has got prepared gold and silver coins of guaranteed purity. These coins beer the image of the holy pindies on the one side and that of goddess durga on the other side. These coins are available at the Prasad counters just outside holy cave after darshan and are also available at all banks of bhawan.
Content updated in January 2020